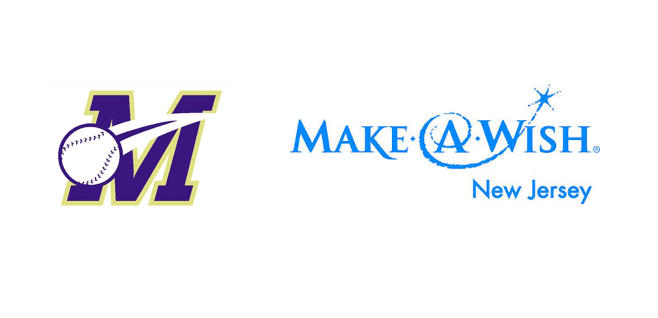 Youth Baseball Managers, Coaches and Administrators,
We invite you to join us at the Monroe Twp Baseball Association's (MTBA) 4th Annual MAKE-A-WISH NEW JERSEY Summer Baseball Tournament Fundraiser.
The tournament is spread over two weekends in July and all games will be played in conveniently located Monroe Twp, NJ (Middlesex County). Here are the weekends and the brackets that will be hosted each weekend:
July 11-14, 2019: U7 "A", U8 "B", U9 "B", U10 "B", U11 "A", U11 "B"

July 18-21, 2019: U7 "B", U8 "A", U9 "A", U10 "A", U12 "A", U12 "B", U13, U15
There are many great tournament choices for your travel team to play in, but we'd like you to join us at a tournament THAT MAKES A DIFFERENCE and is unlike any other tournament your team will participate in. The goal of this tournament is not just to provide a great youth baseball experience for the teams (which it does), but also to raise awareness and make a donation to Make-A-Wish New Jersey (MAW NJ).

Through the participation and generosity of the teams that have played in our tournaments, the MTBA has raised nearly $20,000 in three years and thus has been able to contribute to the funding of a number of wishes to children, including:
A 9 year old boy with leukemia from Mercer County, NJ had his wish to spend a day with his favorite NFL team, the New Orleans Saints, realized

An 8 year old boy with brain cancer from Middlesex County, NJ had his wish to view and ride in "exotic cars" realized

A 12 year old boy with cancer from Middlesex County, NJ had his wish for an "Alienware" gaming computer realized

A 5 year old boy with cancer from Ocean County, NJ had his wish for a superhero bedroom room makeover realized
We hope and pray that no child has to face a life threatening illness and go through what these children have to go through. But the reality is it does happen. What MAW NJ does for these children and families is just tremendous and the surprise and happiness these children feel by having their wish granted often helps them feel stronger, more energetic and more willing and able to battle their illness, And for many, it marks a turning point in their fight against their illness. A recent study* has found:
89% percent of nurses, doctors, social workers and child life specialists surveyed say they believe that the wish experience can influence wish kids' physical health.

99% of parents reported that the wish experience gave their children increased feelings of happiness.

91% observed that the wish experience decreased their children's depression or sadness.

97% of parents said the wish experience strengthened their families.

*Source: 2011 Wish Impact Study
Highlights of prior tournaments include –
Opening Ceremonies that all teams participate in with guests and speakers from Make A Wish plus other surprises.

A former Wish child was a player (and pitched a great game) on one of the 11U teams that participated in the 1st Annual Tournament, overcoming great odds to play the game he truly loves;

The young son (a Wish child) of a manager of one of the teams that has participated the first two years of our tournament was an honorary bat boy and his smile lit up the ball field more than any great pitch, hit, catch or throw;

All teams got their team picture taken in front of the Samuel & Josephine Plumeri Wishing Place (the "Make-A-Wish Castle") in Monroe Twp, just a short distance from our fields.

The picture with a thank you letter updating the wishes we are able to fund is sent to all teams participating;

A former wish child threw out the ceremonial first pitch at the Opening Ceremonies…this former Wish child (whose wish was granted many years ago to attend a major league baseball game), went on to work for the New York Yankees and is currently the Director of Corporate Alliances at MAW
These and more surprises are planned for this summer's tournament!
The MTBA is honored and humbled to team with MAW NJ and with your joining us this summer, we will be able to assist in granting more wishes for children. Click here for the flyer and registration form and please join us for what promises to be a truly memorable experience for all teams participating (please email monroebaseball@gmail.com with any questions). 30% of all registration fees will be donated directly to MAW NJ and 100% of other fundraising events that take place during the tournament weekends will also be donated directly to MAW NJ.
*For more info on MAW NJ, please visit - http://nj.wish.org/ and please also refer to this fact sheet.
Thanks,
Mike Maiolo
MTBA President