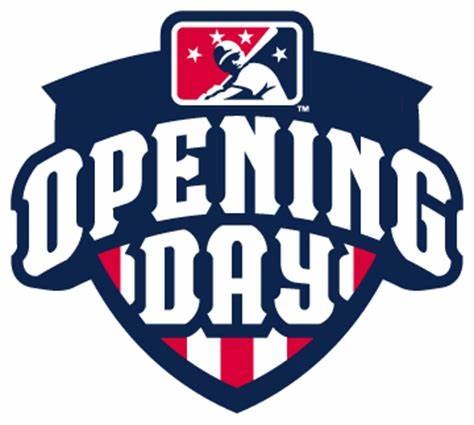 Hello Everyone,

The 2019 MTBA Spring Baseball Season is finally here!!! Mother Nature is still up to her old tricks but hopefully come this Saturday we will start experiencing some prolonged baseball weather! Our managers and coaches have their equipment and will soon have the uniforms to distribute to all of our players…so it's time to PLAY BALL!!

Our Opening Day Parade and Ceremonies, as well as our first games, will be taking place this Saturday, April 6th.

Here are the pertinent times and details for this Saturday...

8:30am: Volunteers assisting at the Opening Day Ceremonies should arrive at JMP and meet by snack bar for instructions
-- We definitely need volunteers to assist with parking, crowd/traffic control, selling raffle tickets and 50/50's, helping to get our players lined and ready for the parade, keeping the parade route clear, etc.
-- If anyone is interested in volunteering, please send us an email to monroebaseball@gmail.com so we have a decent count of volunteers who'll be helping out.
-- Bring your work bond time sheet to get credit for your hours towards fulfilling the work bond reimbursement requirements. A member of the MTBA board will sign off on your hours at JMP on Saturday. Here is a link to download and print a copy of the work bond time sheet.

9:00am: MTBA players arrive for parade and should meet on/near Field #4 to line up and get ready for the Parade of Players!
**all players should be in full rec uniform**

9:30am: Parade of Players begins

9:50am: Ceremonies begin in parking lot near the field house
National Anthem
Speeches
Raffles/Giveaways/Prizes
Ceremonial opening pitch
Take Me Out to the Ball game
Etc.
11am: Rec baseball games begin at JMP


And this is just the beginning of a great spring of baseball and events for the players and families of the MTBA. Here are some key dates and more info will be coming your way soon...

Friday, May 10th – The Annual MTBA Scholarship Fundraiser…Golf Outing and Dinner at Cranbury Golf Club
Come on out and support our scholarship fundraising efforts and enjoy a day and evening of golf, food, camaraderie and fun with your friends and fellow MTBA families. This year we are joining forces with our friends at Monroe Township Softball to put together a truly great event!

Saturday, May 18th – Team and Individual Picture Day at the Rec Center
We will also be having games that day so the picture schedule will be built around the game schedule.

Saturday, June 15th – End of Season Festival and Movie Night at JMP
Come and join us as we "Slide Safely Into Summer" with amusements, fun filled-baseball related activities and our Annual Movie Night Under the Stars…also enjoy free popcorn and cotton candy and whole lot more!
Sunday, June 16th – Monroe Baseball Day at Somerset Patriots Stadium
Come See the Somerset Patriots vs. Southern Maryland Blue Crabs at 1pm / TD Bank Ball Park in Bridgewater, NJ…it's Father's Day and what better way to spend Dad's Special Day than out at the Ball Park! Free tickets and lots of activities and surprises for all MTBA families attending the game!
TBD - Buddy Ball, under the lights at JMP
Enjoy a warm, late Spring/early Summer evening at JMP and cheer on our Buddy Ball Stars!

Finally, we continue to make a lot of improvements and invest capital into our facilities and program to make the baseball experience better for our baseball playing players and their families. This year, some of these include...
-- New tarps for fields 1 and 2 at JMP
-- A new scoreboard and batting cage at Oak Tree School that not only our Pony Aged players can benefit from and enjoy, but the Monroe Twp Middle School Baseball team can as well
And don't forget, we head into our second season of live streaming games on JMP Fields 1-4. So even if you can't make it to JMP to cheer on our players and coaches, you will be able to live stream games (via the web) around the globe!!

So that's it…all the preseason prep is completed (well, almost all of it) and now it's time to enjoy watching the children of Monroe and Jamesburg out on our fields playing the great game of Baseball!! And remember, please feel free to reach out to the MTBA to let us know what you like, what needs improvement and additional things you'd like to see. Reach us at monroebaseball@gmail.com or you can contact me personally at fmmaiolo@aol.com

Thanks and we look forward to seeing everyone at JMP this Saturday… and don't forget, the Falcons Nest Snack Bar will be open and serving everyone's favorite ball park foods!


Regards,


Mike Maiolo

MTBA President